Ikea Grand Opening + My Birthday = $52.80
11:54 AM
Two major events going on around here this last week! First up was my birthday! Who doesn't love their own holiday? Second was the opening of the new Ikea on the same day! (My lovely friend Jenna is claiming credit for that one! So is Ali, so I'm not really sure who to thank.) Anyway, it was a pretty exciting day for me. Knowing that Matt and Mike would not react well to all the excitement, Ali and I made plans to attend the grand opening together. So the night before I had Matt drive over there to drop off my car. That way we wouldn't have to deal with trying to find a spot, then he would just drop Ali and I off on his way to work.



Ali showed up at our house at about 6:15am ready for shopping and meatballs. I was un-showered and in my robe. She was a little early. By about 45 min. Matt even took a moment to send her husband a quick little Facebook message just to tell him how ridiculous he thought we were.
Whatever. Once I finished getting ready we headed over to Ikea. Once there they told us that they would be soon making everyone stand up and get rid of their chairs and stuff, so we just went to my car and ditched our camp chairs right away, whilst there we prepared breakfast for the long wait ahead. Cinnamon bagels with mimosas! If we were going to stand there for 2 hours we certainly should enjoy ourselves, right?
Standing in line wasn't really too bad at all, there were employees handing out little freebies, Swedish dancers, and the tunes of ABBA floating through the air. Add that too our breakfast and easily disguised booze and it was really a lovely morning. About 45 minutes before they opened the doors there were various people giving some speeches, including the store manager, Gov. Hickenlooper, and the Mayor of Centennial. The lady doing the sign language interpretation was pretty entertaining with her facial expressions too. They even had their own spin on a ribbon cutting, it was a log cutting. Seriously, they brought out a small log that was half way pre cut and they used one of those old school saws where 2 people pull back and fourth. Kinda weird but again, whatevs.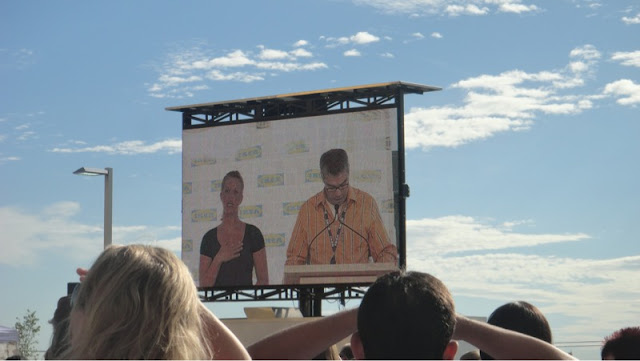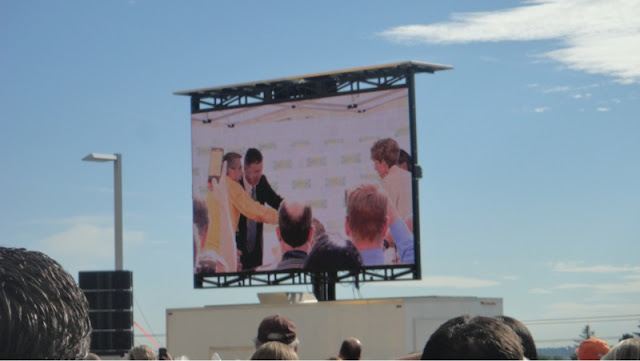 Once we got inside the door, we were greeted be a million Ikea employees banging their thunder sticks together and cheering, and a few 'Happy Birthday' wishes for myself.
We took our sweet time wandering the showroom floor, looking at all their finest wares n' such.
When we got downstairs we found an employee to ask where I needed to go to pick up my Mile High Birthday gift card and made our way over there. Now comes the frowny face part of my day, once I got up to the counter I realized that I had left my wallet at home and therefore could not prove that it was in fact my birthday, I even offered to show them my Facebook page with all my birthday wishes but it was a no go.
:(
So we finished Ali's shopping trip, checked out. Both of us were pretty tired, and hungry. The checkout line was probably the worst part. (you know, other than leaving my wallet at home)
My wallet took 2 seconds to find, it was right on the table where Matt and I sat down to pay some bills the night before. And yes, I did feel really stupid. We ate some lunch at Chick-fil-a and went back for more. The second trip really wasn't bad at all, it only took us 10 minutes to get parked despite the morons they had hired to direct the traffic. They were telling us that the parking garage was fun, but it was only about half way full. Another whatever.
It's time for some free shopping for this girl. I returned to the customer service desk with my id and got my gift card for $52.80 and everything was back on track.
We took the entire loop through a second time, just for funzies and saw plenty that we had missed the first time through. We even got to sample some free meatballs and meet this lovely moose!
At the end of the day my trunk looked like this:
Here's what I picked up, a pot, 2 yards of fabric, 2 pillow forms, and 3 frames. Not too shabby.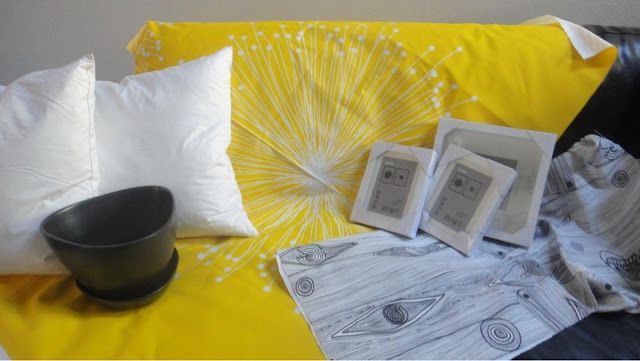 Ali got some fabric, 2 pillows, a kitchen towel, a scarf holder, and a towel rack for their new home they're getting in less than 2 weeks (another really exciting event!)
But best of all is our free swag! Free blue bags, bumper stickers, measuring tapes, carabeners, fans, and best of all, an Ikea house key!
It was all I had hoped and dreamed it would be. Well except for leaving my wallet at home :( and we can't wait until we can drag Matt and Mike back there with us. Hopefully that can be arranged soon. The funniest thing of all is we didn't see one other person we knew there. I haven't even heard of anyone I know going yet. Do you know anyone who went to the opening here in Centennial? What did they think?
-Nikki