Pinterest Challenge - String Garden
10:31 PM
Update: Check out my re-do of this project here!
So have you heard about the
Pinterest Challenge
that was issued last week? What a great idea, and great motivation!

I'm pretty guilty of pinning a million ideas that I would love to do, I could do, but for whatever reason don't. Maybe you're the same, apparently there are plenty of us out there or this whole challenge thing wouldn't be happening. That's not to say that I haven't done anything that I've pinned or been inspired by something that I've pinned, here are a few things that I've done so far (hint, click on the name to be directed to the original pin!):
Cinnamon Roll Pancakes
Nuggets Paint Chip Art
To see this post click here
and my friend Taylor was inspired to make this Gnome for her sister's new baby.
Horizontal Garden Trellis
To see this post click here
Beaded Chandelier
To see this post click here
I've tried, not to sound like every Design Star contestant, put my own spin on things. But do you really want to copy something exactly? I sure don't, what would be the fun I that?
For the challenge I've decided to do one of the string plants that I've been seeing a lot of lately. So without further adieu here is my inspiration pin.
Since there are not any real instructions I'll have to wing it. First up is the 3-d crochet container. I used some regular old #10 crochet thread and a large crochet hook.
I'm kinda terrible at crochet, so maybe if you want to make your own string planter find your own pattern for making a crochet sphere. Anyway, here is mine, I didn't really account for stretching once it was filled with dirt and plant, so next time I would make it much smaller.
But once I had my container made it was time to fill it up. I am planting an orchid, so I am using an orchid mix. Getting it in the hole was a little difficult and I put my plant in too soon, so it made it even more difficult to finish filling the little bag. I made it though, don't worry.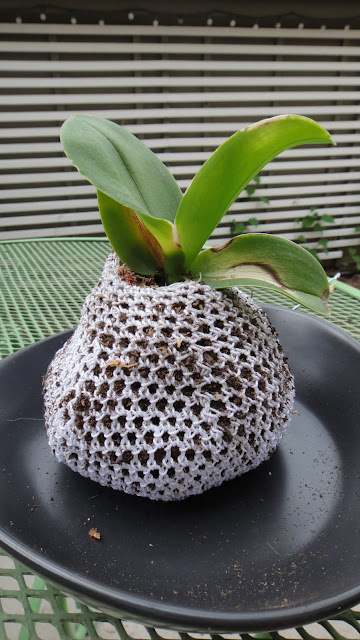 Now once I had the bag filled with my plant and dirt, I've decided that I would rather not have the gauge so open. So again, next time I will not use such a large crochet hook. Then I tied 4 strings placed evenly around the body of the bag.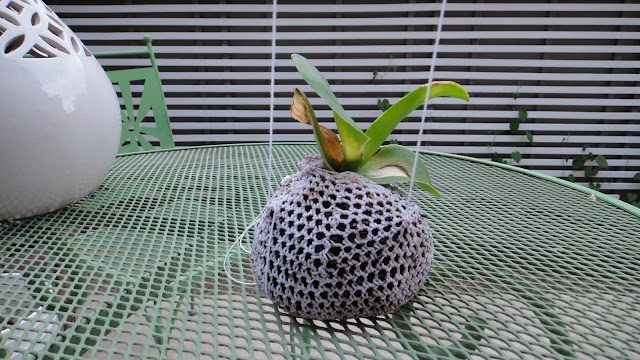 All I have left to do is get some moss to cover the bag with, I'll let you know how that goes when I get to it and where I hang it. And maybe make another one to try out my theories on what to do differently.
OK! What did you make for the interest challenge? I'm so excited to see what others come up with.
- Nikki
Update! Check out all the wonderful projects at
YHL
,
Bower Power
,
Style by Emily Henderson
, and
Making a House a Home
. They're the ones who came up with this awesome idea.