House Tour! Mike and Ali bought a place!
9:41 PM
Last weekend Matt and I had dinner with our friends Mike and Ali at their new home. They just purchased it about 2 weeks before, and have been busy removing wallpaper, painting, and moving in. Since things were little more settled I thought I'd snap off a few pictures to share with you. Its really a great find, the woman they bought it from was the original owner. They had no kids, no pets and never smoked. Her husband was the kind to do the suggested maintenance as suggested, so as you can imagine it's in really great condition. We even got in on the deal. She was selling a lot of her furniture and we got a sweet blue couch that we put upstairs in our loft, but more on that another day.

Here's a couple of shots of the living room. I think my favorite thing is the dividers between the living room and stairs to the basement. They're just simple vertical boards but they're placed at an angle. I also really love the stacked brick pattern on the fireplace!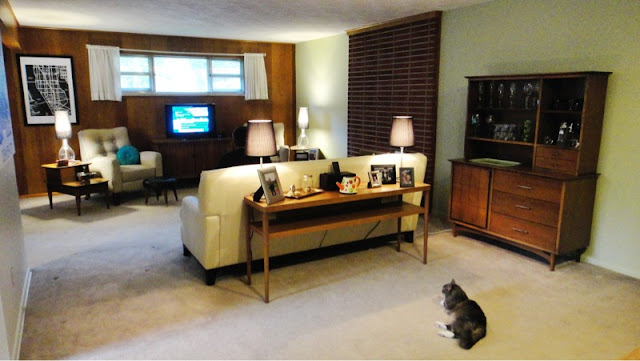 Here is the dining room, and the sliding glass doors that lead out to the back yard.
Here a those same dividers between the kitchen and the dining room. I just love how they look. There's also a really cool pull down light from forever ago above the kitchen table.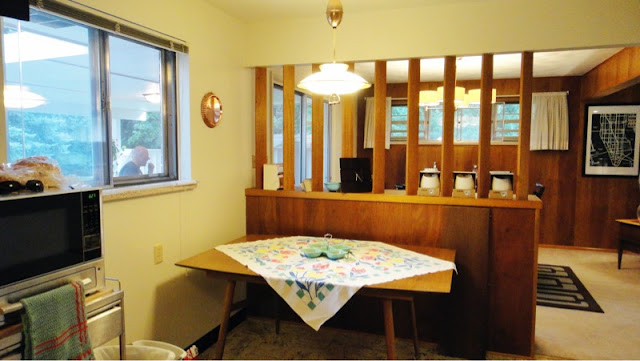 They even still have what appear to be the original cabinets. I bet in most houses of this age they would be gross and nasty, but these are still in fantastic condition.
Here's a close up of the pull down light in the kitchen.
Down in the basement they have a built in bar. They like to throw parties so I'm sure it will be put to good use.
There's also this huge photo mural of the Grand Tetons. I'm sure most people would want to take it down, but they're keeping it. They're even using it as a jumping off point for the rooms decor. Kind of a vintage national parks theme.
There's the same brick pattern but in a different color.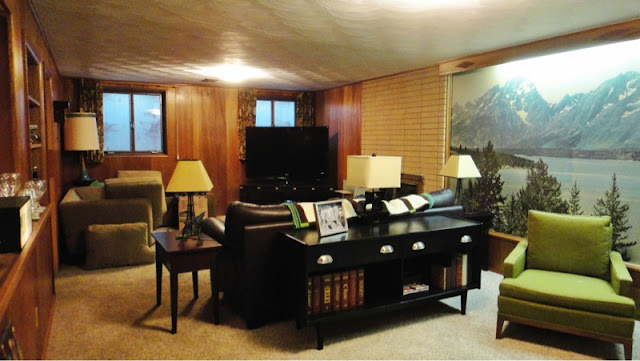 The lights in the basement have these cute little retro stars on them.
This is my nemesis Lucky Boots. She is a bitch. She's cute, fluffy, and even rubs against your legs. But don't let her fool you, as soon as you try to pet her she turns into an evil bitch and hisses at you. Just look at the expression she's giving in this picture.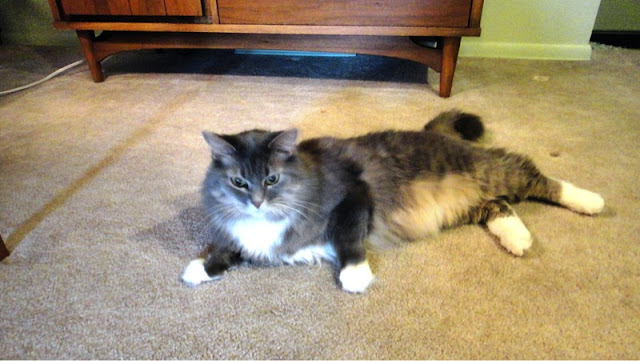 It's just as nice outside too! There's a huge patio (that's what she said) that is half way covered. And there's plenty of greenery around too.
So congrats on being homeowners Mike and Ali, I look forward to seeing how your place develops over time.
Even though you might not know them IRL, you can see their progress too! I told Ali to start a little blog of her own and she finally listened/caved in! So go check out her blog, follow along, and see what they do for yourself.
The House On Adams Drive
-Nikki