Because Everything Looks Better After Dark
6:13 PM
This weekend I was determined to have a patio that was free of rocks! It's been a while, and you may have forgotten that we started our summer by kicking off the Back Yard Makeover project. Well I think we will hopefully just finish phase 1 of the back yard makeover. It's just taking sooooo long to get stuff done out here and it's just too hot! No wonder people hire sweaty college kids to do all their landscaping! Back to this weekend, the plan was to finish moving the rocks! We had a place for them in mind, but before we could dump our rocks the we wanted to up root a Russian Sage plant that was planted the by our neighbor. Yep, the same one that gave us the ivy. Now this is only our second attempt at transplanting plants, so I'm pretty sure it will die. In fact, I'm writing this post 2 days later and some of the leaves are getting crunchy, it's dead and it doesn't even know it yet! We started by digging a hole where we were going to put it, right here.




I also sprinkled a good amount of this rooting powder in for good measure. Honestly I have no clue what I'm doing.
Then we (and by we I mean I stood there and watched Matt) dug up most of the roots of the ill-fated Russian Sage and brought it back to it's new home/grave. Fill the dirt back in and attempt to drown the thing.
Here
lies
it is looking all happy in it's new home!
With the Russian Sage out of the way we distributed the remaining rocks around a window well at the front of our house and that left us with a patio thats rock free!
So even though our yard is not complete here are a few (ok, by few I mean a lot) pictures of how it looks RIGHT THIS SECOND!
Why does ground cover take for-ev-er to fill in? Maybe I will just get more and fill it in myself.
Our little tree guy might be getting a little too much sun. If the sage dies thats where we might move it.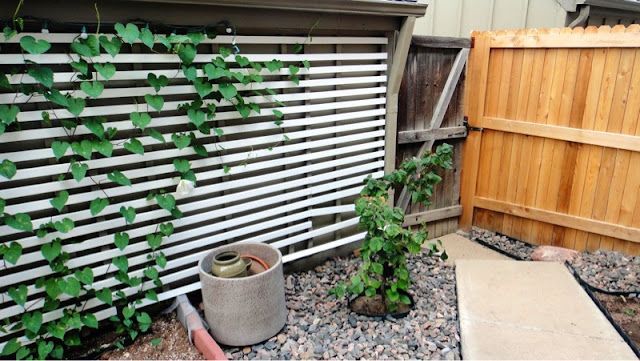 This is where we sit whist cooking dinner because it's too hot in our house.
Moonflower!
This dirt will be covered in grass someday, and those upright pacers at the end of the dirt will be replaced with retaining wall bricks someday. (hopefully sooner than later)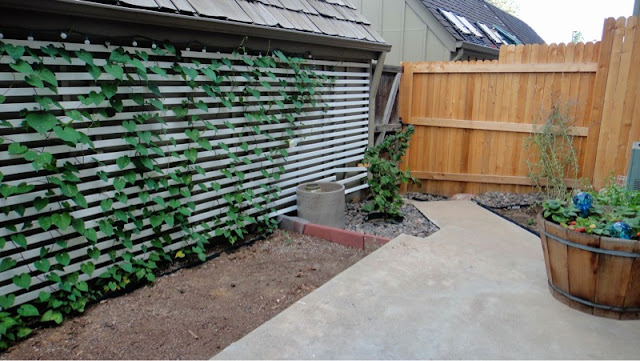 I don't know where I want these anymore, but until we get real patio furniture I guess it doesn't really matter.
Nothing to write home about, I mean come on! Most of it is exposed dirt, but I feel like we're closing in on what it could one day be!
So just to give you an idea of what I/we hope to accomplish by the time winter hits, and because I'm always jealous of seeing the crossed off list items on YHL here is a little phase 1 list for your viewing pleasure:
Back Yard Makeover Project Phase 1
Remove rock from everywhere (here)
Mix compost into soil
Establish new rock beds with flexible garden edging stuff
Plant herbs in front of radon system
Buy and plant some kind of small tree thing (here)
Build lattice along garage for climbing plants to cover (here)
Plant climbing plants next to garage
Put wire on old fence for ivy to train onto (here)
Transplant ivy from neighbors yard
Build 3 baby retaining walls
Run some drainage behind rock bed with tree and direct under the fence by the gate
Plant ground cover in front of a/c unit
Build lattice to wrap around 2 sides of a/c unit
So as you can see we still have a lot to do!
Now for some obligatory night time pictures with twinkly lights! (even though I can't here you some ooohhs and aaahhhs would be nice, just humor me.)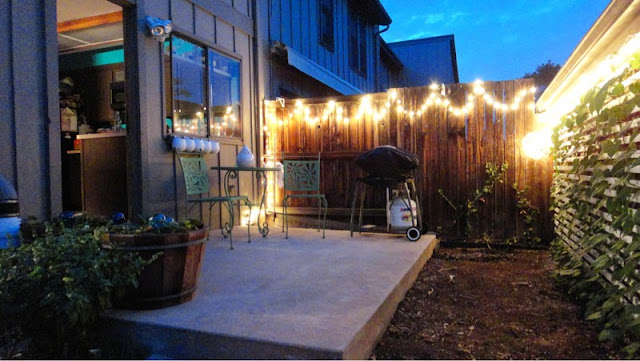 -Nikki