Things to do that get you out of watching football
7:55 AM
If you happen to live with a man, he might be a fan of football. If so, you may have realized that this weekend was the beginning of football season. And, if you're like me you're wondering why all the big hub bub, seeing as how there have been football games on for the last month. Apparently those don't count. Anyway, Matt usually is rendered useless to me on this particular day each year. So what's a girl to do? Make plans to go do girly stuff with Ali!

She got to our house around noon, without her husband. Something about having to mow the lawn, blah blah blah. After one last offer to Matt that he could come with us we made a quick exit. Our first stop was the farmers market on Pearl St. As it was going to be the first thing that closed. I didn't take any pictures there, but i will next time. After wandering around for a bit we noticed that they were starting to close up shop and made our way to Sweet Action!

If you're a fan of ice-cream and live in Denver you must go! Last time I was there I inquired about a flavor that I had tried previously, Earl Grey. The told me that there isn't a schedule for when they rotate flavors, but if I "liked" them on Facebook I could see what flavors they put out. They seem to have a couple different flavors posted every day, so their selection is always changing. Lucky for me, Earl Grey was on their little update for Sunday. I ordered a double scoop in a waffle cone, one scoop Earl Grey and one scoop Honeyed Corn Bread.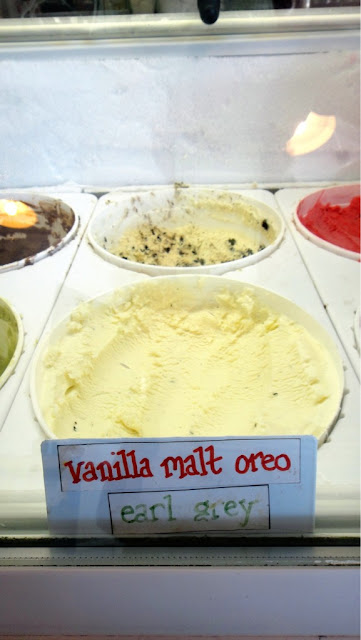 Ali had the Honeyed Corn Bread with a scoop of Peach ice-cream, kinda like peach cobbler. Before you wrinkle your nose, it was so good. It tasted like honey soaked cornbread. Yumm!
Just a few doors over is
Lee Alex Decor
, an antique shop that specializes in mcm stuff and bar ware. They always have the most interesting selection of glasses.
I particularly liked this set that looks like it was painted with peach spray paint.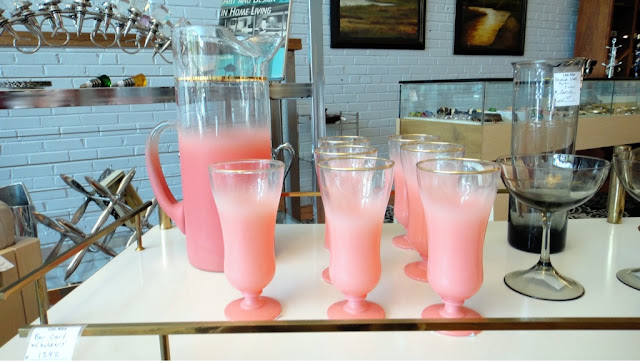 Here's a collection of what caught my eye. Tiny little chairs, so freaking adorable!
Sorry for the blurry picture, but I like this lamp.
And these flip flop candy dishes were hilarious.
This table doesn't look as interesting in the picture, but you might notice that my feet are firmly planted on the floor. That means this table is for children, and points out whats so interesting about it.
After Lee Alex we walked down to this new store that sells kitchen accessories.
Hazel and Dewey
. I didn't really expect much, as I am not one to get excited about cooking in general, but I was wrong.
These porcelain measuring spoons are cute enough to be displayed. (MATT this is something I would like as a present.)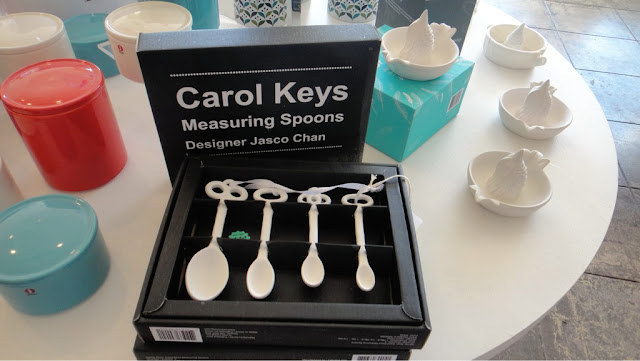 And these wooden spoons had such a lovely tone to them. So much nicer than the pack of 10 wooden utensils we picked up at BB&B for like $6. They even have a little notch in the handle so you can rest it on the edge of your pot.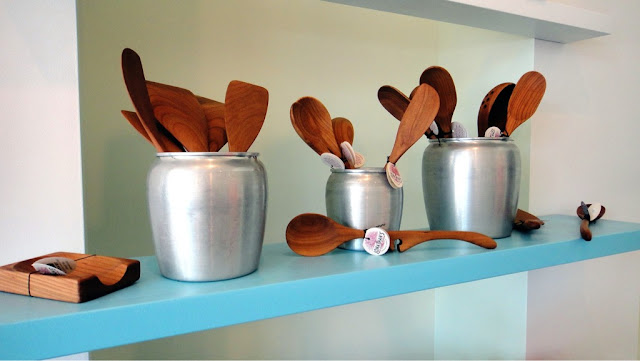 I just love how they displayed them here. So much nicer than shoving them in a container on the counter top.
I also really liked these things. I'm not sure what their intended purpose is, but I like to think they're shallow planters.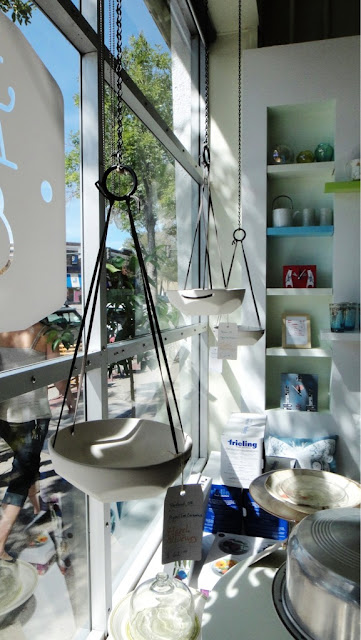 Our last stop was the
Colorado Antique Gallery
. Ali had just been there the other day, but wanted to go back to get 2 items she couldn't live without. You can probably go see them on
her blog
after Friday. Unfortunately for her she left her camera at our house. But on the bright side, she will have a weeks worth of pictures of my cats, Tubbs and Barbara, on her camera when she gets it! I'm sure she will be ecstatic!
On our way out, guess who we saw? It was none other than a Coca Cola themed
Beyoncé the metal chicken
. (If you haven't read this story you should! Women love it, men have a different opinion.)
This one wasn't as big as the one from this story, but I couldn't help but take a picture of it.
So what did you do to get out of watching a whole days worth of football this weekend?