Pinspired By: Paper Ornaments
8:39 AM
Since crafts take a while I thought it would be a good time get started on Xmas ornaments. I always have these good intentions to make things and decorate, but then before I know it it's already Xmas. Well not this year!!!
So these are the ornament that I pinned.

And here are my supplies.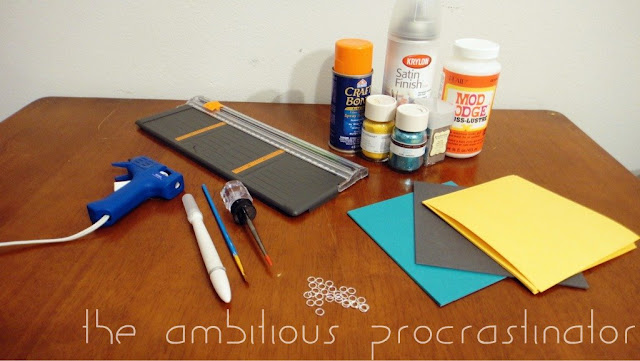 Now if you are someone that has been dabbling in crafty fun times for a while (like myself) then this project should only set you back about $6.00. But if you needed all the supplies it would set you back around $30.Tools:
Paper Cutter
Hot Glue Gun
Small Paint Brush
Awl
Cutting Board
Exacto Knife
Supplies:
Scrapbook Paper 5 for $1 on sale
Glitter I had the teal but spent $5 for the silver and yellow
Mod Podge (or some sort of glue) already had ($5)
Glue Sticks already had ($4)
Spray Adhesive already had ($7.50)
Clear Spray Paint already had ($6)
Jump Rings already had ($2)
Now I won't go through the whole how to process, because the original tutorial did such a good job explaining things, but I will show you how I made things easier on myself. First thing is use a medium to heavy weight card stock. She used old book pages, but since I wasn't using something old I didn't want to have to glue my strips together to make them thicker. Also, a paper cutter will save your sanity. I could not imagine cutting each strip by hand. Doing it with a paper cutter was time consuming enough. I made my strips about 1/4 inch wide and marked that distance from the blade with some painters tape. That way you can just slide your paper in and get to cutting.
The only thing I would change about her tutorial is the glue she used. I do not possess the patience to wait for regular glue to dry. Especially with a project like this where your glueing a gajillion things together. with that in mind, hot glue was the way to go for me. Just use it very sparingly. Seriously. I would just barely pull the trigger to get the tiniest dab of glue. Once you've glued all the boring strips together you will have this beauty. Is pretty, but needs some work to be considered fancy and worthy of your Xmas tree.
I also wanted to hang the star differently, not that using more paper wasn't pretty, but i wanted something more minimal. I had these jump rings laying around from a project that I never got around to, so I thought they would be a nice way to hang my stars. I used an awl to poke a small hole through one of the points for the jump rings that I attached later. Make sure you have a thick cutting board under your star so you don't ruin your work surface.
This star looks a little flat being just paper and all. So to remedy this add some glitter! If there ever was a more appropriate time to put glitter on everything I think it would be Xmas. For the ones that I wanted completely glittered I used a bamboo skewer and poked it into the hole I made with the awl. This acts as a handle to hold your star while you spray down your star with spray adhesive. I didn't start out using the skewer and let's just say my hand looked fuzzy and dirty all day yesterday.
Once the star is nice and tacky it time to glitter! I just used a buffet sized paper plate that we already had to catch most of the loose glitter. No matter what you do glitter is gonna be messy. I set up in the kitchen for 2 reasons. 1. The back door is in the kitchen, I like to spray the adhesive outside I.e. It's stinky. 2. When I was done it was very easy to just wipe everything up with a sponge.
You can also use a paint brush and glue to do more detailed glittering, like the grey ones.
Once you have all your stars just how you want then add your jump rings. I think they really make your ornament look more professional and less crafty.